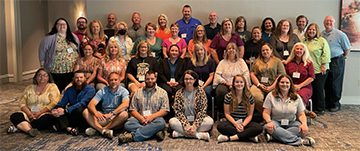 About 35 middle and high school teachers from across West Virginia received complementary science, energy and technology training through the Gas and Oil Association of West Virginia, Inc. (GO-WV)'s 2022 Science Teacher Workshop at the Embassy Suites in Charleston this week, the organization announced today.
Over the two-day event, educators engaged in hands-on learning sessions, roundtable discussions, participated in a field trip and received resource materials including lesson plans, internet activities and curriculum to bring to classrooms once school resumes in the fall.
"Educators play a key role in shaping how students learn and think about key concepts like energy," said Charlie Burd, Executive Director of GO-WV.
"By supplying teachers with the tools they need to understand and explain the complexities of natural gas and oil development, we are helping educators inform the next generation about West Virginia's critical energy industry. We hope to one day see many of these students working in our field, fueling the future of our state and country," said Burd.
The learning stations covered key energy processes and concepts such as sustainability; formation; migrating and trapping; exploration; drilling and well stimulation; producing; refining; and petrochemicals and products.
Sponsors of the workshop are as follows:
Antero Resources, BHE GT&S, CNX Resources, Diversified Energy, Ergon Oil Purchasing, Inc., Greylock Midstream, Markosky Engineers, Northeast Natural Energy, Pillar Energy, The Thrasher Group, Williams Companies, and XTO Energy (an ExxonMobil subsidiary).