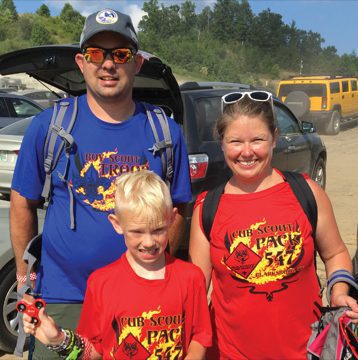 Troop 547 Scout Master Bruce Nutter and Cub Master Peggy Sue Miller shown with Cub Scout Wyatt Miller and his Dominion Energy fidget spinner.
Cub Scout Wyatt Miller, son of Dominion Energy employee Shawn Miller, is holding a fidget spinner with a Dominion Energy logo that was given to him at the Boy Scouts of America Jamboree on Wednesday, July 26. Wyatt was presented this fidget spinner by IOGAWV Executive Director Charlie Burd and Office Manager Lori Miller Smith.
While Wyatt was presented his spinner upon return to the Welcome Center parking lot, 4,000 other Boy Scouts received their fidget spinners during the Jamboree.  Scouts from nearly every state across the country, as well as those from the Dominican Republic, Guam, Guatemala and Puerto Rico, will take these spinners home with them, carrying the message of IOGAWV with them.  IOGAWV members sponsoring fidget spinners included Aqua Clear, Dominion Energy, EnerVest, Reserve Oil & Gas and Trans Canada, as well as IOGAWV.
Wyatt had been at the IOGAWV booth earlier in the day and had not gotten a fidget.  On the bus ride back to the Welcome Center, Charlie remembered Wyatt, struck up a conversation and discovered the connection with Wyatt's father in Clarksburg.